Gail recommends:
GenealogyInTime Magazine is the most popular online genealogy magazine and one of the largest free genealogy websites in the world. Everything is free, including powerful genealogy search engines, a popular genealogy toolbar, listings of the latest ancestral records, in-depth articles and several other helpful tools and resources. Genealogy In Time magazine FREQUENTLY ASKED QUESTIONS (FAQs)
What Is a "Second Cousin Once Removed?" "A term often found in genealogy is "removed," specifically when referring to family relationships. Indeed, almost everyone has heard of a "second cousin once removed," but many people cannot explain that relationship. Of course, a person might be more than once removed, as in third cousin, four times removed. In short, the definition of cousins is two people who share a common ancestor. Here are a few definitions of cousin relationships: First Cousin: Your first cousins are the people in your family who have at least one of the same grandparents as you. In other words, they are the children of your aunts and uncles. Second Cousin: Your second cousins are the people in your family who share the same great-grandparent with you. Third, Fourth, and Fifth Cousins: Your third cousins share at least one great-great-grandparent, fourth cousins share a great-great-great-grandparent, and so on. Removed: When the word "removed" is used to describe a relationship, it indicates that the two people are from different generations. "Once removed" indicates a difference of one generation, "twice removed" indicates a difference of two generations, and so forth. For example, the child of your first cousin is your first cousin, once removed. That is, your cousin's child would be "almost" your first cousin, except that he or she is one generation removed from that relationship. Likewise, the grandchild of your first cousin is your first cousin, twice removed (two generations removed from being a first cousin). Many people confuse the term "first cousin, once removed" with "second cousin." The two are not the same. Keep in mind that you and a relative only need to share one grandparent to be first cousins, or share one great-grandparent to be second cousins, etc. If the ancestor in question had more than one spouse and the two of you are descended from different spouses, you are full cousins. There is no such thing as a "half cousin" although you will hear people use that term occasionally...."

(Source: Excerpts from Eastman's Online Genealogy Newsletter, copyrighted and posted here with the permission of the author, Richard W. Eastman)

Click this link for more from this article and others on interesting genealogy topics, available free, at Eastman's Online Genealogy Newsletter.


If TFA members have any genealogy questions, please submit them to us. We will be posting common questions and answers as we receive them.


Towne Cemetery in Londonderry, NH

Photography courtesy of Heather Wilkinson Rojo



The Boyd and Towne Families of Londonderry, New Hampshire (Source: Excerpts from the Nutfield Genealogy blog of Heather Wilkinson Rojo by Elizabeth Hanahan) A few years ago two portraits were donated by a descendant to the Londonderry Leach Library, and their story was printed in the Derry News. They were primitive style paintings of Robert W. Boyd and his wife, Mary Lund Towne Boyd painted by the itinerant portrait painter, Horace Bundy,in 1851. In the days before photography, it was common to hire these self-taught artists to capture the family on canvas. Click to read the story of Robert Boyd and Mary Towne.

. NOTE: If members have any stories related to any media postings - photos, cemeteries, headstones, etc. that you would like to share here, we can periodically add them, when your new items are posted.

Back to top
Remember, to take full advantage of all of the features of our website, you must be a member of TFA. Join now so as not to miss out! PLEASE NOTE: The information in our database is provided as a member service and is for the exclusive use of TFA members. While vital records are open to the public, member stories, photographs and the like are not without written permission from TFA and the member who submitted the information.

JOIN NOW!!!
2015 Membership Form
Click for New Member Instructions

The following article is from Eastman's Online Genealogy Newsletter and is copyright 2014 by Richard W. Eastman. It is re-published here with the permission of the author. Information about the newsletter is available at http://www.eogn.com. More than 80,000 Digitized Genealogy and Family History Publications are Now Available Online One of the greatest genealogy resources available today is the huge collection of digitized genealogy and family history publications from the archives of some of the most important family history libraries in the world. When I travel to various genealogy conferences and societies, I am often amazed at how many genealogists are unaware of these free resources. Not only are the books and other publications available free of charge, you don't even have to pay for gas to visit these libraries! Click to read the rest of the article.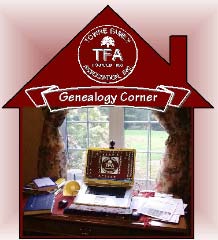 WELCOME TO THE GENEALOGY CORNER! Susannah Towne and Thomas Hayward - Clarification
We frequently get questions on the website about Susannah Towne who was married to Thomas Hayward. The daughter of William and Joanna Towne was Susan who was baptized on October 26, 1625 at St. Nicholas Church, Great Yarmouth, Norfolk, England, and died in Great Yarmouth on July 29, 1630 before the family emigrated to America. Lois Hoover, on page 5 of her book, Towne Family:Five Generations of Descendants , clears up the confusion between Susan and Susannah: Many have identified Susan as Susannah, wife of Thomas Hayward. In New England Marriages Prior to 1700, Clarence Almon Torrey suggests the wife of Thomas Hayward was the Aunt of Peter Towne of Charlestown. This was based on Peter identifying Susannah Hayward's children as cousins in his will; however, Torrey places the name Towne in brackets [-], indicating this claim is not proved. Susannah, wife of Thomas hayward, was born at least 20 years before Susan, based on the ship logs when the Hayward family came to New England. We have no further information about this family. Please direct inquiries to the TFA Genealogist, Gail Garda
Email: admin@townefolk.com

GENEALOGY COMMITTEE:

CHAIRMAN Gail Garda

Associate Genealogist for DNA Project: Margaret Press Associate Genealogist for English research: Karen Johnsen Research by Charles Farrow, a professional genealogist, is also funded in England.



For genealogical queries or to submit data, contact: admin@townefolk.com




William Towne and Joanna Blessing were married at St. Nicholas Church, Great Yarmouth, Norfolk, England Click below for a report of 4 generations of William Towne's family: William Towne Descendents